Long Island Pure Water Ltd.'s pioneer initiative involves the remediation of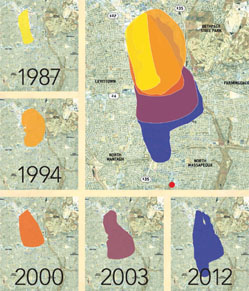 the Navy/Grumman plume emanating from the former industrial facilities in Bethpage. For decades, the plume has been permitted to spread across Long Island, contaminating the aquifer and placing tens of thousands of citizens at risk of exposure to its toxic pollutants. Recently, radioactive materials were discovered in the plume. The extent of the radioactive contamination has not been investigated, despite levels detected exceeding the drinking water standards.
Long Island Pure Water Ltd. believes citizen intervention is necessary to ensure the radioactive materials are addressed, properly investigated and remediated. Long Island Pure Water Ltd. hopes to see the environmental laws of the state enforced by the New York State Department of Environmental Conservation and to see that the United States Navy and Northrop Grumman are held responsible for their actions.
Read the Notice Letter sent to the Governor Cuomo, the New York State Department of Environmental Conservation and the United States Navy on September 8, 2017:  Click Here
To read our Complaint filed on February 1, 2018: Click Here